Recently, The Red Spider film by Marcin Koszałka was released here in Poland. I had the great honour to work on it as a sound designer.
It's definitely one of my favourite films I have ever worked on. Based on the true story of a serial killer from 1960s Kraków mixed with urban legends about other serial killers of that times, it is a very unique psychological thriller, which is an art-house film at the same time. Shot on 35mm tape, it is a visual masterpiece with a very dense and cold mood.
There is very little dialogue and just a few minutes of music by Petr Ostrouchov (though very evocative). The film has top-notch performances by all the actors and amazing production design.
Before I started working on it, I knew it would be a very challenging project for sound.
After seeing dailies from the set, I felt in love with the film.
Recreating 1960s communist era Kraków sounds was very important for me. There is a lot of loneliness and emptiness in the film, and most of it takes place during the winter.
I started building a sound palette whilst the film was being shot. I knew that the film will need a very realistic and precise sound.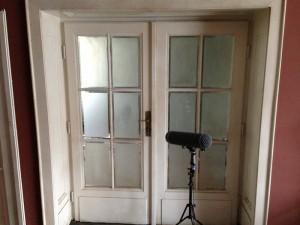 I started visiting film locations during quiet periods, like weekends and nights, to collect the sounds of all props, doors, furniture, etc. and also clean room tones.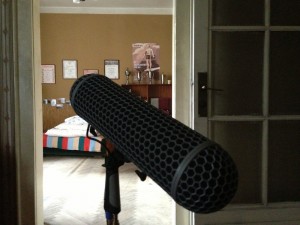 Of course, all elements of that environment (like vehicles) are very specific to those times and places, and they don't exist in any commercial library.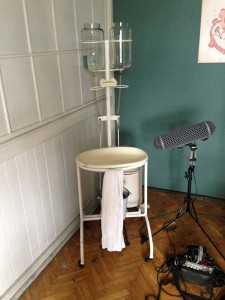 Finally, almost every sound effect used in the film was recorded during sessions dedicated to The Red Spider .
From the beginning of shooting to the end of postproduction took two years, so I had enough time to collect quite a large library of sounds.
The sound environment
I needed to build the atmospheres from the ground up to recreate the sound of the 60s. It was obviously much more quiet in those days. So I undertook many recording sessions during the most quiet days of the year, like New Year's Day and Independence Day, in the morning and during the night.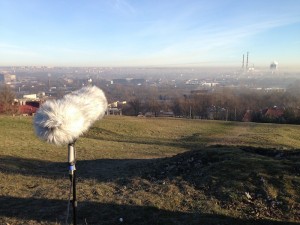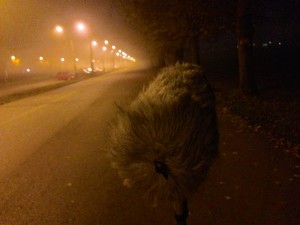 We also travelled to smaller cities to record city tones with a small amount of distant sounds, or background activities with a specific ambience, like footsteps in the empty streets between old tenement houses.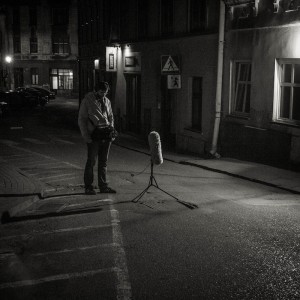 Despite the fact the we never see a tram in the film, they were (and still are) such an important element of the Kraków soundscape that I needed to record them as well. I recorded old trams found in different cities in Poland, both on-board and from the outside. Tram rumble is a great source for adding tension, keeping the atmosphere realistic.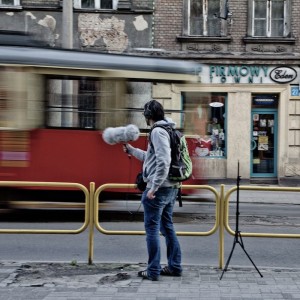 In the film end credits, there is only the city atmosphere of the 70s heard for a couple of minutes before music starts.
I recorded tons of old vehicles for the film, which I will describe below.
And last but not least – pigeons. Everyone who has ever been in Kraków knows how essential sound element they are, especially for the old town where the film takes place.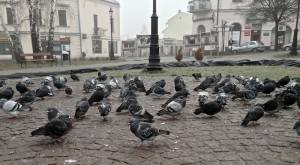 The space – natural reverberation
Yes, we love the ability to recreate any reverberation with plugins, as well with hardware processors. But for me, nothing works as well as the real space recorded multitrack with many different microphones. Walter Murch said that "reverb is like a perfume for sound". Nothing more needs to be said.
There are a few scenes in the film which were shot in very specific locations. I decided to record sounds performed in real spaces to get the feel of them.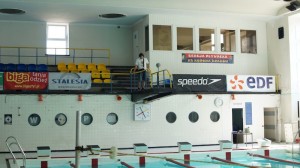 In the opening scene, we see a main character taking part in diving turnament at an indoor swimming pool. We performed many different activities in the empty swimming pool to get background noises of the audience presence. The same goes with applause in the swimming pool, which sounds very unique…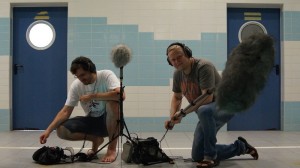 At the end of the film, we see (and hear) banging on wood in a long corridor (I'm doing my best not to give away any spoilers). Collecting corridor activities in the old public library in Kraków a bit earlier, I found great spots for recreating this sound using natural reverberation.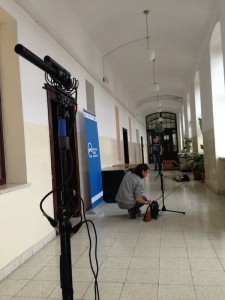 We took two recording sessions in the basement and in a big hallway, with many mics placed varying from very close to far away for different perspectives. Just like during the gunshots recording session.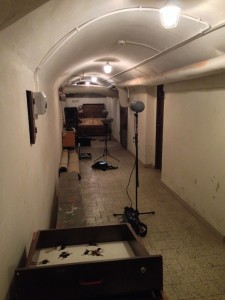 In the same spots, we also recorded group footsteps and activities. Having very good production sound and foley, I love to add another layer of sound effects performed in real spaces to enhance the realism.
Vehicles
The film, often showing characters in private situations, also has a few breath-taking scenes. The death barrel is one of them. If you're not familiar with what it is – it's a huge wooden barrel where a motorcyclist rides on its walls, using centrifugal force.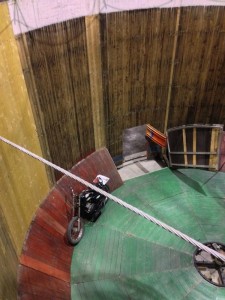 Recording it was one of the most exciting sessions in my life. It's loud, it's fast, and it's close. I used many different miking techniques – for different on-board motorcycle POVs, from inside the barrel and from the top of it.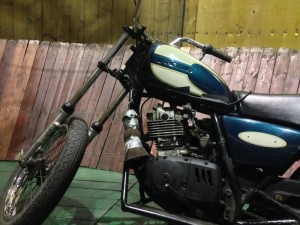 But what I learned quickly being at stunts rehearsals was that the barrel as a surface on which the motorcycle is riding produces very specific sounds. I used a pair of contact mics to record both wood and metal shakes and rumbles.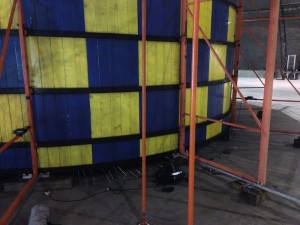 EDIT: After getting request in facebook comments, here are some samples of it:



The other important vehicle in the film is an old public bus – Jelcz 272 (which was popularly called here "the cucumber"). We hired it for the recording session and miked it with 14 different microphones – dynamic, condenser and contact mics and even a hydrophone placed on the floor.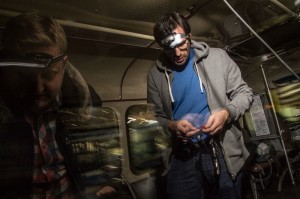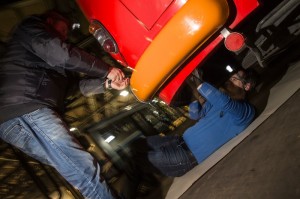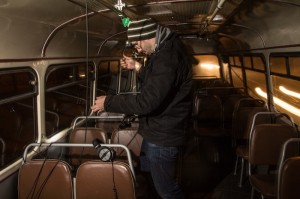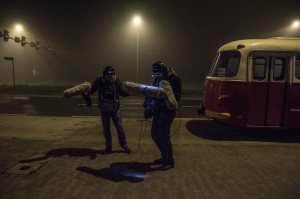 And again – being there and listening to it, I learned how important it is to experience sounds by myself. The interior sound is not like in a regular car or in a modern bus. It's a huge metal tube, resonating with very specific reverb. Shifting gears sounds amazing inside – resonating and travelling from the top to the end of the bus.
There are also many other cars (as well as motorcycles) in the film, which I recorded – for specific scenes or to use them as ambience elements.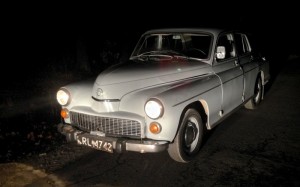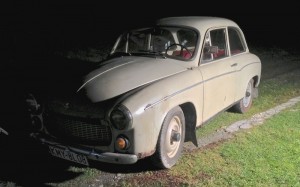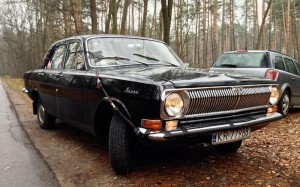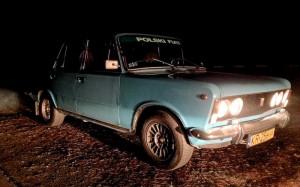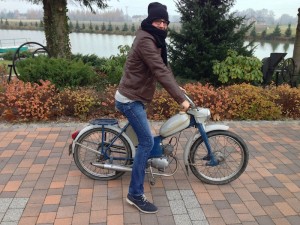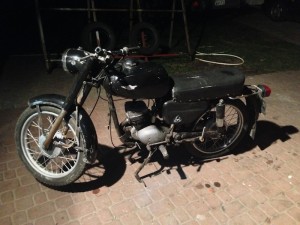 And again – starting my work early paid off, because I recorded tires on different kinds of snow one year, and the next year there wasn't any snow here (which was very unusual)…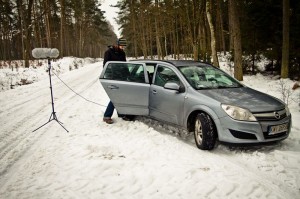 Smaller, yet important elements
The director is a well-known documentarist, so being realistic was very important to him – he definitely didn't want to create stylised, cliché sounds.
There are a few 16mm cameras in the film, which I recorded using different mics (including a contact mic). Even the flash lamp sound is the very same model that was used those days.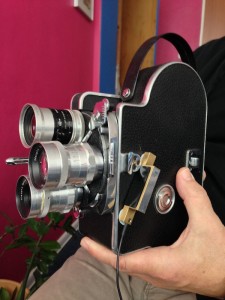 We often have some scenes where we don't see a dog, yet it is present in an apartment and takes place in the action. So I recorded dog footsteps and activities on a wooden floor and other surfaces.
Shooting the crime scenes, the director consulted with a forensic pathologist about how it would look like. I also took this opportunity to consult with him about how the crushing of a real skull would sound… Well, the Hollywood cliché sound is definitely not how it sounds in the real world, and we wanted to keep it real. I used two pig heads (which are anatomically similar to human heads) and was hammering them for an hour… Another one of the craziest things I have ever done…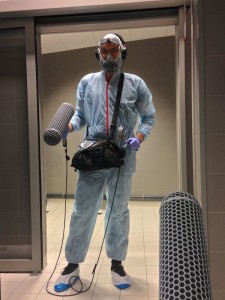 There is some radio news in the film. Some of these were recorded as an ADR by us, and some are real radio archives which we found in the archives of Radio Kraków. In our quest for realism, we chose only the ones that were broadcast in the same year as the film takes place. I could spend weeks listening to those characterful recordings of old broadcasts. Old microphones, tubes, tapes, noises, saturation and different voice intonation than is used today. We are all used to seeing old photos, but listening to the old recordings (for me) tells much more about those days and people.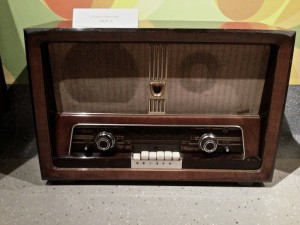 I'm very proud that I worked on this unique film.
It taught me that being involved as early as possible pays off later. And experiencing sounds by myself is essential.
Big thanks to all film crew and everyone involved in getting to those locations, vehicles and props. And to Wojtek Iskierka for his great photos documenting our madness.
The Sound Crew:
Production Sound Mixer:
Bartłomiej Bogacki
Sound Mixer Assistant:
Jan Rey
Boom Operators:
Piotr Fede
Kazimierz Jastrzębski
Supervising Sound Editor / Sound Designer:
Michał Fojcik M.P.S.E.
Dialogue & ADR Editor:
Bartłomiej Bogacki
Foley Artists:
Tomasz Maciątek
Jacek Wiśniewski
Sound Re-recording Mixers
Michał Fojcik MPSE
Bartłomiej Bogacki
Music Composer:
Petr Ostrouchov